LEATHER TEETH – The Story

This is the story of Bret Halford, an introverted science student. He loves a girl who doesn't love him and prefers the star quarterback. Bret is enraged, tries to create a drink to control them all, finds himself disfigured, and so decides to become a rock star. The Girl, the girls…he will seduce them all by becoming Leather Teeth, singer of Leather Patrol.
This is the story of Carpenter Brut, synthwave artist, darksynth, whatever the label after all. He is the author of Trilogy in 2015, appeared on the soundtracks of Hotline Miami 2 and The Crew, and today, signs Leather Teeth. A short album. Dry. "Like good old metal albums, Master Of Puppets first. 32 minutes of sound, eight tracks. People can put it on a loop if it's too short".
It's the story of an era. The one with the perms, the studded bracelets, the most total decadence. The era of Quiet Riot, Mötley Crüe, Van Halen too. "When I was young, I didn't want to hear about glam rock bands, but this time, I knew I wanted something a little more rock glam". The character in Leather Teeth is actually named Bret Halford, a mix of Bret Michaels from Poison and Rob Halford from Judas Priest. In the end, it's the story of a soundtrack. The soundtrack of an imaginary movie released in 1987, of a cheerleader (the song "Cheerleader Effect"), of a glance exchanged at a "Sunday Lunch" which turns into "Monday Hunt". An ultra dark coming of age, a horror movie between Street Trash, Brain Dead, The Thing, and House, which would be the beginning of a trilogy both colorful (pink colour makes its appearance in the Carpenter Brut universe) and deeply unhealthy (« in the second movie, Leather Terror, Bret will revenge"). The birth certificate of a beast ("Beware The Beast").
A real soundtrack, a fake movie : A story of girls, death and dirty synthesizers.
Redaction and interview by Nico Prat – 2018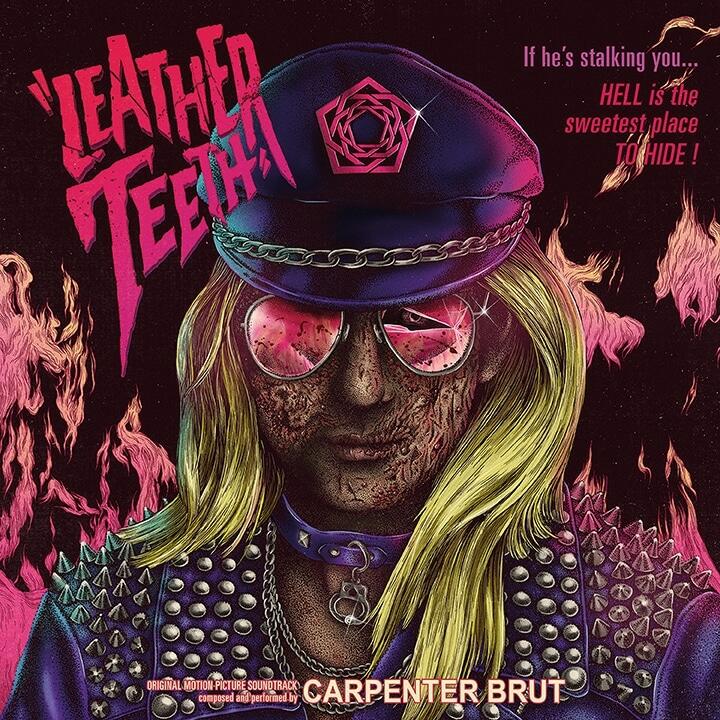 Franck B Carpenter As the Keyboardist
Adrian Glitter as The Guitar Player
Flo Sparkles as the Drummer (Monday Hunt)
Kristoffer Rygg as The Mouthpiece Of The Night (Vocals on Cheerleader Effect)
Mat McNerney as The Dream Crawler (Vocals on Beware The Beast)
Yann Ligner as The Shadow Whisperer ( Lyrics on Cheerleader Effect)
Ole Alexander Halstensgård (Cheerleader Effect) & Jaime Gomez Arellano (Beware The Beast) As the Vocal Recording Engineers
Fabien Devaux (Monday Hunt) As the Drum Recording Engineer